The following is an email sent from a Hummbug Builder to a prospective Wombat Builder.


From: Keith
To: Mike
Subject: RE: Hummbug & Wombat
Date: Fri, 5 Sep 2003

Mike - See my response to your questions in capital letters below. I have done a few kit cars over the years. This kit is the best I have seen, and Karl is a prince of a guy to work with. Feel free to call me in the evening or Saturday if you have more specific questions.

Keith
-----Original Message-----
From: Mike
To: Keith
Sent: 9/4/2003
Subject: Hummbug & Wombat

Dear Keith,
I have been talking to Karl Kanthak with regards to purchasing a Wombat. He gave me your name as a owner/builder of the Hummbug, the predecessor of the Wombat. He said you would not mind answering a few questions.

1. Generally speaking did you find that the Hummbug went together as easily as Karl states in his web site?
I HAVEN'T CHECKED KARL'S WEB SITE LATELY, BUT I FELT HIS REPRESENTATION OF THE HUMMBUG WAS PRETTY ACCURATE.

2. Were the instructions complete or did you have to figure out how to assemble the vehicle?
THE INSTRUCTIONS WERE COMPLETE AND ACCURATE. MY DONAR VEHICLE WAS A 1965 AND HIS INSTRUCTIONS WERE TOTALLY ACCURATE FOR 1967 OR LATER. THE DIFFERENCES WERE MINOR.

3. Was it easy to assemble?
MINE WAS A FATHER SON PROJECT. EVERYBODY AGREES THAT THE WIRING IS THE TOUGHEST PART OF ANY KIT CAR. MY 15 YEAR-OD SON FOLLOWED KARL'S WIRING INSTRUCTIONS WITH NO PROBLEMS.

4. How often did you have to consult with Karl or somebody at the factory?
WE DID MY HUMMBUG 6 YEARS AGO BEFORE ITEMS LIKE OPTIMUM TIRE SIZE, AND WHEEL OFFSETS HAD BEEN DOCUMENTED, SO WE HAD SOME CONVERSATIONS ON THINGS LIKE THAT. I FOUND HIM TO BE ACCESSIBLE AND HELPFUL THE FEW TIMES I NEEDED THIS KIND OF INFORMATION.

5. Have you had any problems with the body, frame, or any of the material supplied by the Wombat Car Company?
NONE. THIS IS A FIRST CLASS KIT. ALL THE SMALL PARTS ARE PACKAGED. EVERYTHING FITS. THE STEEL REINFORCED BODY IS BUILT LIKE A MACK TRUCK. (ACTUALLY IT'S BUILT LIKE A FREIGHTLINER IN THE SAME FACTORY THAT MAKES THE FREIGHTLINER BODIES.) HERE'S A LITTLE INDICATION OF HOW STRUCTURALLY STRONG IT IS. THE PEOPLE LOAD HERE (OUR RATHER LARGE EXTENDED FAMILY) IS ABOUT EQUAL TO THE WEIGHT OF THE ENTIRE VEHICLE.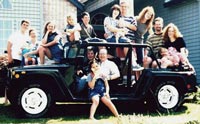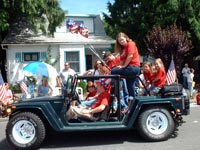 Click on photos to enlarge.

THE SMILING BOY ON THE LEFT TAKES CREDIT FOR BEING THE BUILDER.

6. Were you then and are you know satisfied with the vehicle?
MY SON WHO IS NOW ALMOST 22, DROVE IT TO HIGH SCHOOL NEARLY EVERY DAY FROM THE TIME HE WAS 16. HE ALSO DROVE IT IN A NUMBER OF SCHOOL PARADES. MY WIFE AND I (AND A 4-YEAR OLD GRANDSON) DROVE IT 65 MILES TO CANNON BEACH OVER A WINDY MOUNTAIN ROAD LAST WEEK. WE WERE ABLE TO KEEP UP WITH THE BEST SPORTS CARS ON THE ROAD AND ATTRACTED AN ADMIRING CROWD WHEN WE PARKED AT THE BEACH. IT IS OUR VEHICLE OF CHOICE FOR SHORT TRIPS IN GOOD WEATHER. THE GRAND KIDS LOVE IT!

Thank you for taking time to respond to these questions,

Sincerely,

Mike