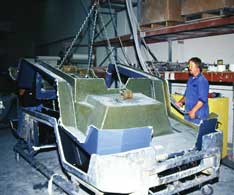 Fiberglass
The company that constructs the Wombat fiberglass bodies is a major player in the trucking industry, producing the class "A" surfaces modern truckers demand, the strength to handle professional use, and the durability to withstand the constant punishment and vibration generated by a big rig. Coremat is used in the running boards and other high stress areas. The fiberglass body is mated to an all steel subframe, resulting in an incredibly stiff and durable product. The photo at right shows a Wombat body being pulled from the mold after curing.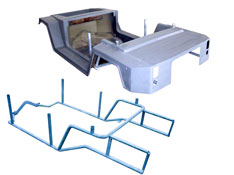 Steel
The Wombat is not a dune buggy. Unsupported dune buggies lack the steel sub-frame that makes the Wombat such a stiff, smooth, and durable product. The image at right shows a steel sub-frame next to a Wombat body with the frame installed. The 0.095 wall, 1.75 round steel tubing sub-frame is bonded and riveted into place at the factory. Not in this view is the top support cage of 0.095 wall, 1-1/2" diameter steel tubing. It bolts to the steel sub-frame in 6 places. The frame's original design purpose is to support the windshield and top. Our cage is extremely sturdy but we cannot make any safety claims.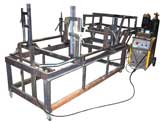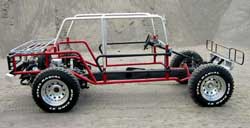 The photo above left shows the body subframe in its welding jig. In the photo above right we mounted a bare subframe and top frame onto a chassis so you could see the details of the Wombat under the fiberglass. See more subframe on chassis photos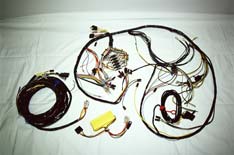 Electrical
The Wombat is fitted with a custom wiring harness that incorporates 4-way flat towing plugs at the front and rear to function as either a "towee" or "tower" vehicle.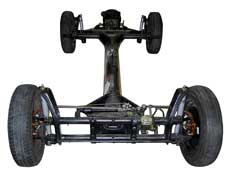 Chassis
We recommend that a Wombat be built on a completely restored chassis: Inspect the chassis for any damage that would disqualify it from restoration. Old rusted floor pans are cut away; the Wombat body comes with its own built in fiberglass floor. All mechanical pieces, bushings, cables, lines, and hoses should be stripped off and discarded. The center shift tube is cut open, the throttle and clutch cable tubes are inspected, repaired if needed, and lubricated. The chassis is treated with rust prevention compound, then reassembled using all new, remanufactured, or rebuilt parts, with all adjustments reset to factory specifications. The chassis is fitted with a remanufactured transmission specifically geared to match the tire size and engine combination. A 100% new engine is installed. The pan is now ready for a Wombat body.